Posted March 5th, 2015 at 3:46 pm by Dan Musick
Matt Fernandes, backed by five years of quality garage door service at DDM Garage Doors, has acquired the assets of the installation and repair business, DDM Garage Door & Dock Services, Inc., through a merger. Matt's Garage Doors and Home Services, Inc. covers a large portion of the western Chicagoland area, servicing and installing residential and commercial garage doors and openers traditionally served by DDM. He is based in West Chicago, Illinois, and he services an approximate 20-mile radius.
Matt honed his creative skills while working hard during his tenure at DDM, and he developed a true vision for the customer first as part of a whole-life orientation that he furthered under the tutelage of Dan Musick. Fernandes elaborates: "Probably the best thing I have learned from DDM was thinking outside the box as far as servicing garage doors. But in general, the most important thing I have learned from Dan was to truly service customers and always stand behind my work. He has really pushed me to be better not only in the way I work, but also in my life."
Matt looks forward to valuable ongoing assistance from Musick: "With his extensive knowledge of the industry, [Dan] has seen almost any problem that may arise. I know that if I ever get into a bind, he'd be more than willing to give me important pointers."
Matt's right-hand man is his technician, Dan Romanowitz. Though new to the job and to the industry, Dan comes prepared with a good work ethic. His lively personality will make for friendly relations with all customers. Fernandes adds, "His faith, which I share, directs his approach to the job, and that's something I desire to see grow as he becomes an experienced serviceman."
And there's more than just garage door prowess in Matt's quiver. He grew up following in his father's and grandfather's tracks as custom home builders, and from age ten he learned daily from his dad on job sites. This longstanding experience makes Matt a well-rounded tradesman and adviser, as he can provide services in construction, electrical, and painting. With this whole-service orientation, Matt aims to help customers maintain their entire home or building.
He expects to excel in the competitive west suburban Chicago marketplace by combining his garage door expertise and construction experience with honesty and integrity. He'll do this by continuing to follow the golden rule – treating others fairly the way he likes to be treated.
What does this mean for local customers? DDM's tradition of service excellence will continue to find its focus sharpened as Matt and his new team members perform their work for the glory of God.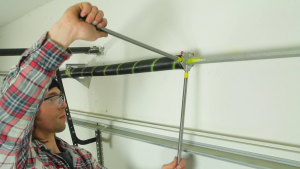 This entry was filed under About DDM, News, Technical Support. You can follow any responses to this entry through the RSS 2.0 feed.
---