Clopay EZ-Set Garage Door Parts
Clopay EZ-Set Torsion Springs
Clopay's EZ-Set torsion spring system, which was designed by Ideal Door, uses unique parts. Pictured below is the layout of these garage door parts in a single-spring system.

A: Shaft Retainer (
EZ-SRTNR
). Secures the shaft to the end bracket.
B: Cable Drums (
EZ-DRM-P
).
C: End Brackets (
EZ-EBP
).
D: Left Spring Winder (
EZ-WND-L
). Also available with heavy-duty Freeway bearing (
EZ-WND-LF
).
E: Shaft Coupler (
EZ-SHCO
). Optional: Used with doors having a split shaft.
F: Center Support Bracket (
EZ-CBRK
). Optional: On double-car garage doors.
G: End Support Bearing (
EZ-STNS
). Also available with heavy-duty Freeway bearing (
EZ-STNF
). Garage doors with two torsion springs will instead have a right-side winder (
EZ-WND-R
), which can also be ordered with a heavy-duty Freeway bearing (
EZ-WND-RF
).
Not pictured: Winder Cone (
EZ-WDCN
). This part fits the end of the spring into the winder.
Clopay EZ-Set Extension Springs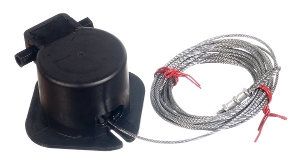 Clopay also has an EZ-Set extension spring system. Like the torsion spring system, the EZ-Set extension spring system has its own line of hardware. Rather than winding the springs with a drill, the EZ-Set extension spring winder stretches the extension spring with a drill. This can be done with the garage door closed, which minimizes the risk of property damage and personal injury that comes when trying to lift the door with a broken spring.
The special extension spring streching mechanism, pictured on the right, secures to the track near the fixed pulley at the front of the door. A cable in the stretching unit runs through a pulley attached to the extension spring and travels back to the pully near the stretching unit. It then runs down to the bottom fixture on the garage door. When the stretching unit shortens the cable, it stretches the extension spring, which in turn decreases the weight of the garage door. With both springs stretched the proper length, your garage door should be balanced.
Prices Subject to Change
UN: Units by which each part is sold
Price: Cost per unit (for smaller quantities)
Qty | Price: When purchasing at least the quantity in the left column, the unit price is specied in the Price column to the right